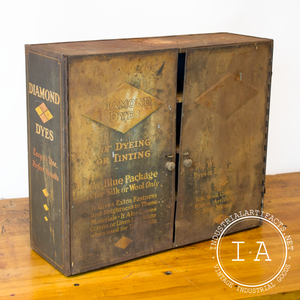 This cool piece of advertising history would make a great display for small pieces of artwork or collectibles - check out the amazing lithographic artwork on every side. The box measures 19" W x 6 1/4" D x 15 3/4" T. The interior dimensions are 18" W x 6" D with four shelves measuring either 3 1/4" or 3 1/2" in height. Although this does not have built-in wall mounts, this would look spectacular as a shelf.
*Bulbs are not included unless specified
I also have a wonderful selection of other industrial artifacts, please feel free to browse!
Please give me a call with any questions you may have 815-299-7625
Happy bidding
SHIPPING PRICES REFLECT THE FACT THAT ALL OF OUR ITEMS ARE INSURED FOR THEIR VALUE. SHIPPING COSTS ARE AN ESTIMATED REPRESENTATION; ACTUAL COSTS MAY VARY BASED ON ITEM AND DESTINATION.
INTERNATIONAL CUSTOMERS: Due to the high value of some of our items, many items shipped to internationally cannot always be insured for their full value. In these cases, we will insure them to the full extent available, but will not be responsible for additional damages above the available insured amount. International items are shipped via USPS; please become familiar with the insurance policy associated with your country.
FREIGHT CHARGES are an estimate to a commercial address or to the nearest freight terminal for pickup. Additional charges may apply for residential delivery. Please provide us with a zip code and form of delivery for an accurate quote.
IR-Storage863-AWC-EeS