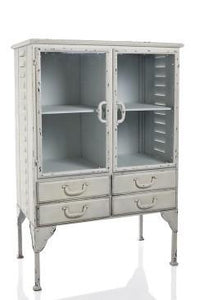 Here at Home of Temptations (HOT Design), for lovers of rustic industrial chic furniture, we have an awesome antique white iron locker door, glass display cabinet / sideboard with cupboard shelves and four drawers underneath.
Made of iron and styled in a vintage rustic look, this is a wonderful piece of furniture for storage, reducing the clutter as well as being a focal point in your bedroom, man cave, lounge or office.

This unit can be used to display general knick knacks/collectibles, but it could also house office supplies, bathroom supplies, kitchen tools - the potential is endless!

Dimensions: Approx 112.5cm in height x 77cm in length x 43.5cm in depth.
Layby? Most welcome. Please email homeoftemptations@gmail.com to enquire.

Please also note, from time to time stock listed may be out of stock due to high volume of sales. Please enquire prior to purchase.

Please enquire for shipping costs. At this stage, we send within New Zealand only.