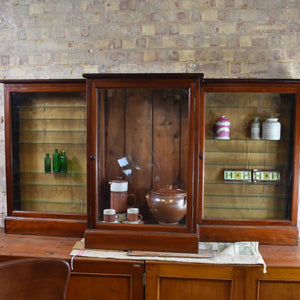 Here for sale is a fantastic antique mahogany wall hanging shop display cabinet. Made up of three glazed cabinets the two outer cabinets have 14 glass shelves. The central glazed cabinet is larger with no shelves but ideal for displaying a large item.
Old glass with original bubbles adds to its character. Brass plates on back for wall hanging.
Condition
Shows signs of wear and tear as it is old and has been used, but only adds to its character. Great decorative item which would look fantastic in any home or business interior.
We are a family company and love sourcing unusual pieces which bring a burst of individual style to the most modern of interiors, creating interiors with soul!
Dimensions are approximate
--
Please allow 10 working days for delivery
Total 173 cm width, 43 cm depth, 92 cm height
Internal of outer cabinet  50.5 cm width, 9 cm depth, shelf 3 cm height, some selves 9cm height
Middle central cabinet 53.5 cm width, 35 cm depth, 76 cm height