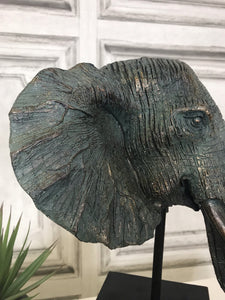 Antique Finish Elephant Head Statue. 
A statement piece for any room in your home.
Impressive lit up in a display cabinet or as a real eye-catching addition to any overmantel or console table. 
As we are all aware the elephant represented with an upward facing trunk is associated with and is used to represent prosperity, power, wisdom, strength, protection of the home, fertility, and good fortune.
Size Height 41 cm Width 23 cm Depth 21 cm