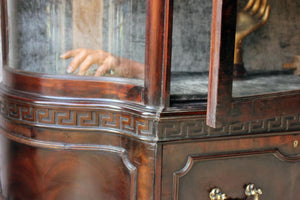 Origin: English
Period: Late Victorian/Edwardian
Provenance: Unknown
Date: c.1895-1905
Height: 82.25 inches
Width: 50 inches
Depth: 16.5 inches (all at maximum)

The two-piece mahogany veneered Gillows of Lancaster display cabinet or collectors vitrine having a solid mahogany carcass with carved cornice, brass escutcheons, and serpentine glazed sides and straight front, the interior with three adjustable shelves, the base with a single drawer with brass swing handles and greek key detailing above on a shaped apron and carved acanthus leaf feet, the whole stamped GILLOWS to the drawer and to both brass locks.

The cabinet has had some restoration in recent times with some veneers re-attached and has benefited from a clean and polish. The locks work with the original key and the glass to the whole is all original. One of the three shaped 8mm thick shelves is a later replacement and there are not enough brass fixings to support the third shelf so these need to be sourced if one is wanting to include a third shelf but it is included in the sale. Elsewhere the elephant grey velvet lining is contemporary. The quality of cabinetwork shown here is exemplary and one can demonstrate this when closing the lower drawer; it is air tight, precision personified.

Gillows might not be as prestigious a name in English furniture as Chippendale, Hepplewhite or Sheraton, but the firm, based in Lancaster, outlasted all of them. The history of Gillows, from the early eighteenth century to the early twentieth, encapsulates the history of English furniture and its manufacture. Robert Gillow began making furniture around 1730, some 20 years before Thomas Chippendale, and developed first a national and then an international reputation as a supplier of quality furniture to the upper middle classes, the landed gentry, and the aristocracy. The company won commissions to furnish and decorate public buildings in Australia, South Africa, India, Russia, Germany, France and the U.S., and it also executed Pugin's designs for London's Palace of Westminster from 1840.

Gillows of Lancaster boasted the widest stock outside London. By 1900, around the time this cabinet was made, it was supplying complete interior decorating schemes – metalwork, stained glass, wallpapers and the whole range of upholstery and soft furnishings as well as furniture. Severe strain on company finances ensued and led to a loose association with Waring of Liverpool from 1897. In 1903, Waring took over Gillows, and Waring & Gillow was established. That was the end of Gillows as a benchmark for quality and this cabinet was thus one of the last quality pieces from the Gillows stable. This cabinet was most likely a private commission, made for a serious curio or specimen collector, or perhaps for a grand hotel lobby.

There is no better cabinet of its type; seriously good.