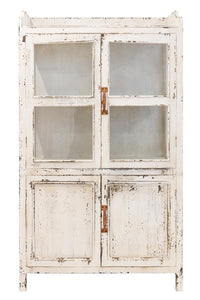 Here at Home of Temptations (HOT Design), for lovers of French Country Chic furniture, we have a "Amélie" shabby chic wood & glass display cabinet / sideboard. 

A spectacular focal point design to look at & a wonderful practical piece of furniture for storage. - allows you to display treasured antiques, plates, Murano glass and collectibles. Could also be used in the butlers pantry, lounge, bathroom, or office.
Especially suited to old villas, character homes or shabby chic / French country chic styled modern homes.
Colour: Antique white.
Dimensions: Approx 1.59m in height x .89m width x .47m depth.
Layby? Most welcome. Please email homeoftemptations@gmail.com to enquire.

Please also note, from time to time stock listed may be out of stock due to high volume of sales. Please enquire prior to purchase.