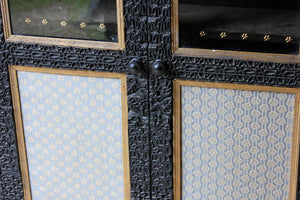 Origin: English
Period: Late Victorian
Provenance: Christies: An English Look - Robert Kime, Piers von Westenholz, David Bedale and James Graham-Stewart, London, Wednesday, July 08, 2009
Date: c.1880-1900
Height: 78"
Width: 37"
Depth: 10.5" (at extremities)

Of pleasing proportions, the unusual and unique ebonised display cabinet, the entire carcass front modelled from Indian textile printing blocks, the two glazed arched doors with original knob handles with gilded borders opening to reveal a velvet lined interior with four shelves and lower storage section, the doors having blue and ivory patterned silk inlay panels, the whole being pseudo-colonial and surviving from the late nineteenth century.

The cabinet is in good overall condition and proves very original. The interior has been relined with black velvet with brass cabouchons. The whole of the exterior is original and there are no significant losses, damages or restoration to note.

This one-off creation would have been entirely created on a whim, a flight of fancy, and it would have been commissioned for a particular place in a prominent home. The owner would have most likely used it as a 'wunderkammer' or curiosity cabinet and probably had ties to the far east. The proportions are shallow and the textile printing blocks are almost certainly of Indian origin.

Fabulously unique.