When Will Shops Reopen In The UK – And How?
Get the latest on coronavirus. Sign up to the Daily Brief for news, explainers, how-tos, opinion and more. 
The coronavirus pandemic, which has killed more than 44,000 people in the UK, has slowed down – but could pick up again if adequate precautions are not taken or officials move too quickly to get people back to work.
With that in mind, the government has already announced a staggered, three-step lockdown exit strategy that will see the reopening of non-essential shops starting next month.
While most of us are familiar with the big-name shops set to re-emerge from hibernation, the high street shopping experience is likely to differ somewhat from how you remember it.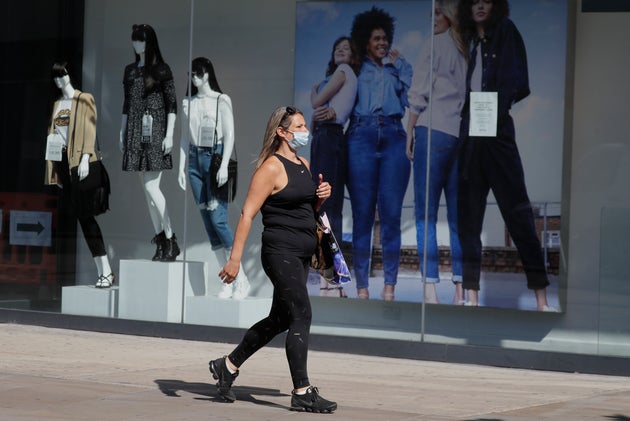 Socially-distanced queuing is already a feature at most supermarkets and other essential traders that remained open throughout lockdown, and it will undoubtedly continue as the new wave of stores reopen.
DIY outlets including B&Q and Homebase, and some household waste and recycling centres, have reopened after introducing measures to ensure the safety of customers and staff.
Floor signage to mark safe distances, marshals to manage queues, protective screens at checkouts, cleaning stations with hand sanitiser as well as additional security at controlled entrances and exits will all be enforced, too.
Non-essential shops including clothing
Non-essential stores, such as fashion or homeware retailers, could reopen as part of step 2 of the strategy.
Discount retailer Poundland will reopen 36 shops this week, with the rest of its empire of 800+ stores gradually reopening over the coming weeks.
Men's clothes store Moss Bros will open 128 stores in June and Marks and Spencer expects to follow suit by reopening its clothes stores, which were sectioned off from existing food halls during the lockdown. It will reopen 49 of its cafes across the UK from Thursday.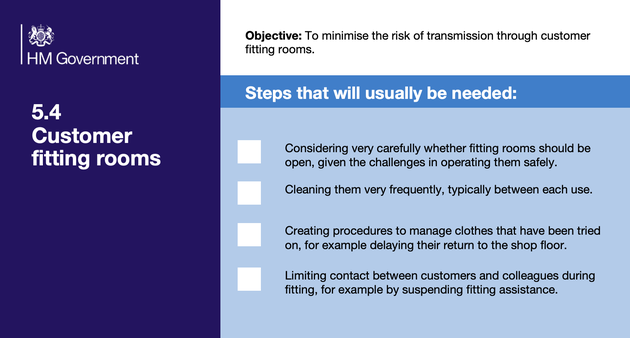 The high street retailer said it had taken the decision to reopen the sites to takeaway customers after operating social distancing and extra hygiene measures in its stores.
But the casual shopping experience of trying before buying and returns could be a thing of the past. At present, government guidance suggests there need to be procedures to manage clothes that have been tried on, such as delaying their return to the shop floor to minimise transmission of the virus. 
Guidance from both the government and the British Retail Consortium (BRC) suggests that shops think carefully about whether fitting rooms should be kept open at all. 
If store toilets do open to the public, there will need to be clear procedures for cleaning and queuing outside of them. 
Speaking to The Independent, Professor Joshua Bamfield, director at the Centre for Retail Research, said that he believes fashion retailers will reopen in two phases.
"In stage one there will be rigorous social distancing, which will also mean no trying on of clothes and a problem about 'returns'. Shopping for clothes won't be as friendly and casual as it has often been in the past," he said. 
The second stage, he predicts, will take place towards the end of the year as social distancing rules are "gradually dismantled by the government and shopping becomes more normal."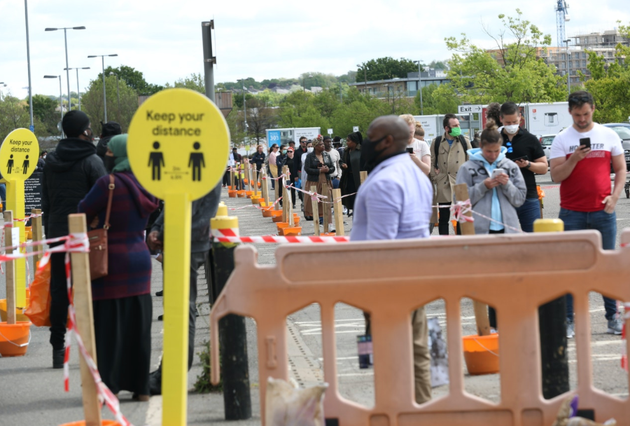 He added: "The rules as now set out will make shopping for clothes no fun at all", before a "creeping liberalisation" of the social distancing guidelines improves the clothes shopping experience. 
Hospitality businesses
Pubs, restaurants and hotels, hairdressers, places of worship and cinemas will be able to reopen from July 4 at the earliest in the final step of the lockdown exit rules.
But the government says venues that are crowded "by design" and "where it may prove difficult to enact distancing" will not be able to reopen.
Some businesses can open in part if safe to do so, while the government said it will "carefully phase and pilot re-openings to test their ability to adopt the new Covid-19 secure guidelines".
Restaurants and takeaways
McDonald's will reopen 30 drive-through restaurants on Wednesday and intends to have the rest open by early June, while fast food rival Subway reopened more than 600 of its UK stores last week for delivery and takeaway.
Meanwhile Wagamama has revealed plans to reopen 67 of its restaurants for deliveries by the end of next month.
The pan-Asian restaurant chain launched a trial at five of its delivery kitchens earlier this month after being forced to shut its doors to customers due to the coronavirus pandemic.
It said it will now rapidly expand its delivery service after the "successful" trials in London and Leeds. It will reopen 24 sites this Thursday, with a further 20 reopening on May 28.
The chain said it hopes to have 49 sites open for delivery by the start of June, with this expanding to 67 by the end of the month.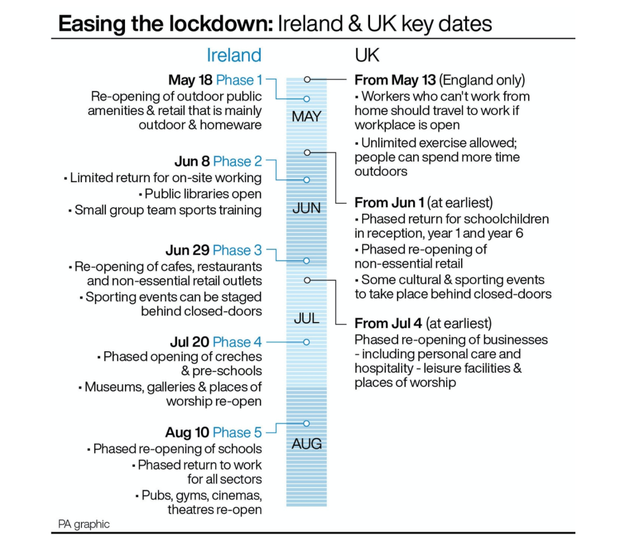 Wagamama said it has devised a schedule of reopening new sites that will allow staff to slowly return to delivery-only work at their own discretion.
Pizza Express will cautiously open its doors again with plans for 13 sites across London to offer delivery services.
KFC, Greggs and Pret are also making similar plans or have started trading again after shutting due to the coronavirus lockdown.
It's not clear when sit-down restaurants will reopen, though elsewhere globally places to dine out have been reopening, operating at around 30% capacity to adhere to social distancing rules. 
Pubs
Environment secretary George Eustice said on Tuesday he is hopeful pubs will be able to reopen in July – if science supports it.
Eustice told MPs the government was "already working with the hospitality and pub sector to identify what social distancing measures they might be able to put in place to make that work properly".
Though New Zealand has been largely successful in its goal of limiting the virus, bars in that country will not reopen until Thursday, a decision that was prompted in part by the experience in South Korea, which has seen a spike in coronavirus cases linked to nightclubs in Seoul.
However, most gatherings will be limited to 10 people and social distancing guidelines will remain in place under the "level two" restrictions.
Last week, New Zealand PM Jacinda Ardern found out there are no exceptions when it comes to social distancing after she was turned away from a cafe because it was too full under coronavirus guidelines. She has been widely praised for closing its borders and instituting a strict lockdown in March. 
Hotels
Places of accommodation will reopen as part of step three of England's recovery strategy, which will not begin earlier than July 4. A document published by the Cabinet Office last week said staying overnight at a location other than the place you live "for a holiday or other purpose is not allowed". This includes visiting second homes.
While it's not yet certain how UK hotels will adapt to the rules, further afield on the Mediterranean island of Cyprus, ideas being considered include disinfecting luggage, putting hotel reception desks behind screens and dressing cleaning staff in full protective gear.
Among the changes being adopted in Portugal, guests will not check into their rooms until 24 hours after the last occupant has checked out, to allow time for thorough cleaning and airing of the space. Waiting for sunbeds may come to an end as some hotel guests will get one for their own exclusive use. Buffets are unlikely to be offered, but room service is expected to thrive.
The country has also come up with a plan to get people back on the sand starting on June 6. Sunbathers must stay 1.5 metres apart, with umbrellas at least three metres apart. New signs and an app will use a traffic-light system of red, yellow and green indicating which beaches are full, partly full or have few people. Paddle boats and water slides will be prohibited.
Hairdressers
Socially distanced hair appointments are expected to operate via booking systems, with salons and barber shops operating at limited capacity. Gloves, face masks and sterilisation of equipment will also be enforced. 
Cinemas
Speaking earlier this month, Tim Richards, chief executive of the Vue Cinemas chain, predicted "demand like we've never seen before" for cinemas when they are reopened, highlighting the releases of Tenet, Minions, Mulan and the latest James Bond film No Time To Die later this year.
He told the BBC the company is working with the government on ways the industry can operate while ensuring social distancing.
"We can actually control how many people go into our cinema at any given time. We have the ability to schedule our films separately and we have the ability to control entrances and exits for customers.
"We have operating systems in place today which allow social distancing and cocooning within the cinema for couples, individuals or families who want to watch a movie."
The chain said it has learned significantly from the impact of the Sars outbreak on its Taiwanese operations between 2002 and 2004.
Richards said the chain is prepared for "every possible eventuality, ranging from social distancing to restricted access".
Nightclubs
It's uncertain how nightclubs – both home and abroad – will fare as the lockdown is lifted, given the potential difficulties of managing social distancing in such environments. 
After weeks of nearly no new domestic coronavirus cases, South Korea relaxed its lockdown on May 6, but a subsequent spike in infections linked to Seoul's Itaewon nightlife neighbourhood forced a rapid rethink. 
The Mediterranean resort town of Ayia Napa is known for its boisterous parties. Each summer, thousands of young foreign tourists pack the dance floors of its nightlife district after a day at the beach.
But the pandemic silenced the exuberant Napa Strip district as the island nation of Cyprus went into a lockdown to halt the spread of coronavirus. Now nightclub owners wonder when social distancing rules will be eased enough for the party to resume – and what those new parties will look like.
"We know at nightclubs, young people will go to dance and have a good time. But then you have to tell them that they have to keep two metres apart from each other?" asked Charalambos Alexandrou, the spokesperson for a group representing local clubs, bars and restaurants.
Risk assessment certificates
All places that reopen will need to carry out a risk assessment with the Health and Safety Executive (HSE) and must display a certificate to show staff are protected in the workplace.
Other key points include maintaining social distancing – with employers expected to redesign workspaces to maintain distancing – staggering start times, creating one-way systems for workers and protecting staff who may be vulnerable.
The government said the new Covid-19 secure guidance will work alongside current health and safety rules, rather than through the introduction of new laws.
To cope with the extra influx, the HSE will receive an extra £14m in funding for extra call centre workers, inspectors and equipment.