15 Genius Tips for Storing Papers and Getting Organized
Storing papers can be a real pain. They accumulate quickly, and before you know it, your desk is buried. But there are plenty of clever ways to get rid of paper clutter so that they're out of sight but still within reach and easily findable when you need them. Below, you'll find creative paper storage ideas for everything from your kid's artwork and school papers to receipts to scrapbook paper. Once you get a handle on the paper clutter, you'll be amazed at how much better you'll feel. Getting organized is therapeutic, isn't it? Here are 15+ ideas to get you started.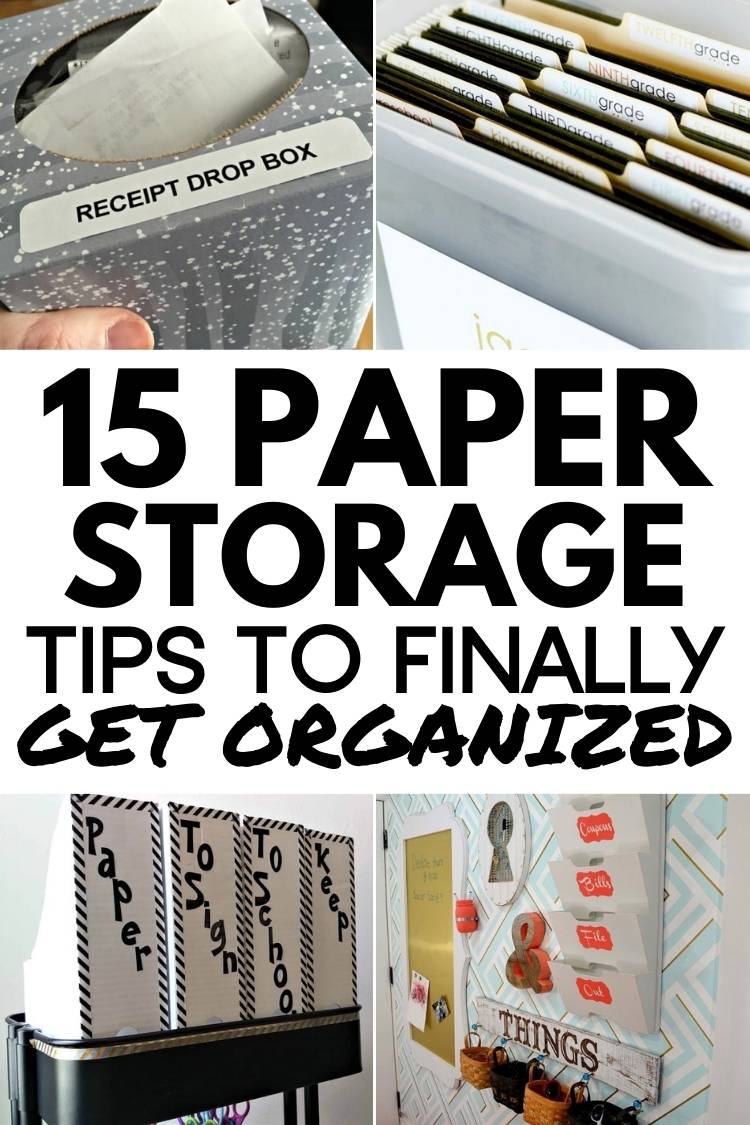 How Do You Organize Years of Paperwork?
Many people find themselves overwhelmed by piles of paper. Old bills, school papers, and mementos can quickly take over a home or office. The key to keeping paper clutter under control is to develop a system for storing papers. One way to do this is to create a filing system. Papers can be sorted by month, year, or type of document. Another option is to scan important documents and store them electronically. This can save space and make it easier to search for specific items. Whatever storage system you choose, the important thing is to be consistent in using it. By taking the time to organize your papers, you can create a more efficient and clutter-free home or workspace.
How Does Marie Kondo Organize Papers?
Marie first sorts papers into two categories: papers to be dealt with and papers to be saved. Dealing with papers refers to things like school forms for your children, letters that need a reply, or something that needs to be read (a magazine or newspaper, for example). She divides the papers that are to be saved further into frequently used papers and infrequently used papers. Everything else should be thrown out or saved digitally. And although she recommends storing all infrequently used paperwork together, we'd recommend storing things like birth certificates, death certificates, social security cards, and insurance policies in a fireproof safe or document box.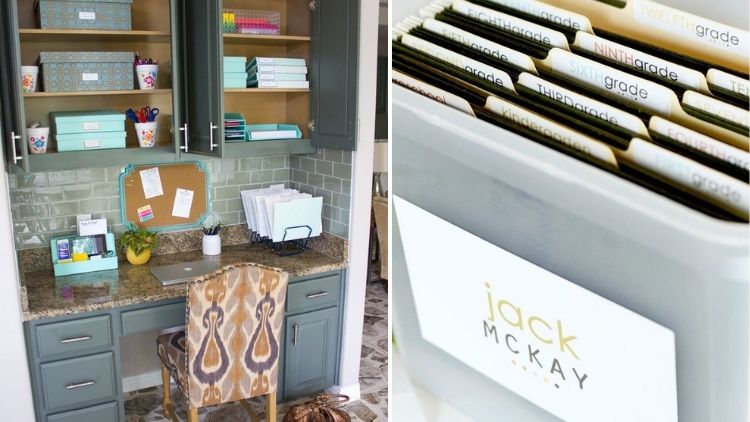 How Long Should You Keep Paperwork?
Storing papers can be a tricky business. On the one hand, you want to keep important documents safe and sound. On the other hand, you don't want your home to turn into a paper graveyard. So how do you strike the right balance?
Here are a few general guidelines to help you decide how long to keep paperwork:
Tax returns and supporting documents: 3-7 years, per IRS guidelines
Bank statements: 1 year
Credit card statements: 1 year if you rely on paper copies, 3 years if you use them for tax purposes
Pay stubs: 1 year
Utility bills: 1 year unless you've used some monthly bills as a home office deduction in which case you should keep them for 3 years
Insurance policies: at least as long as the policy is active, but ideally for up to 3 years in case there have been any mistakes on past claims
Warranties and receipts: as long as the item is under warranty but if used for tax purposes, then keep for 3 years
Of course, these are just general guidelines. You may need to keep certain documents for longer periods of time, depending on your personal situation.
Don't forget to invest in a good paper shredder for shredding documents with sensitive information before throwing them out.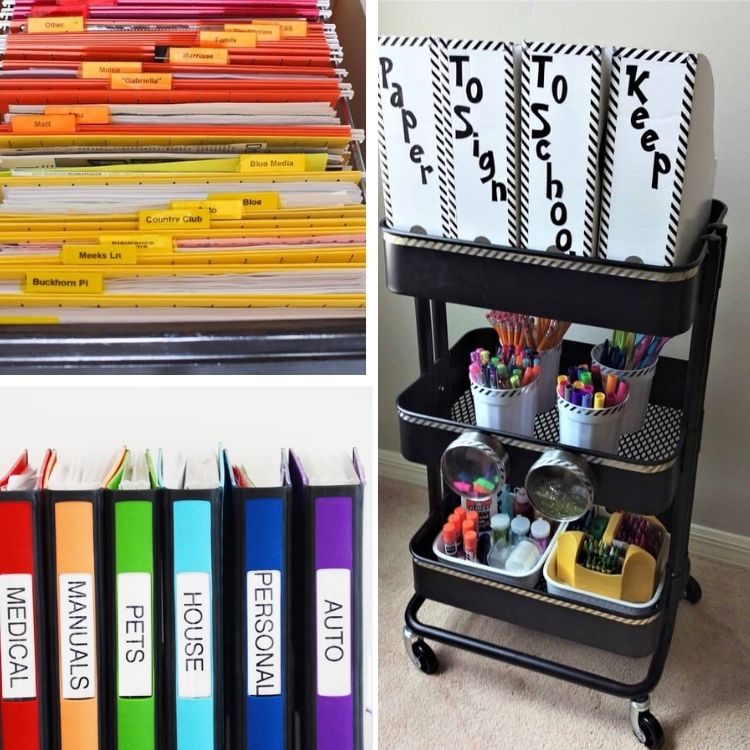 Ideas for Storing Papers
Ready to get started organizing your papers? Here are some smart tips and tricks to organize just about every type of paper you can think of.
Scan documents and save them as PDFs on your computer or in the cloud.
This first tip is obvious, but it's an important one. Save as many papers digitally as you can to minimize the physical papers that you have to keep. You can scan everything from old newspaper clippings to your child's artwork instead of maintaining physical copies. Just make sure that you have a copy of wherever you're storing your digitized papers. If you're saving them to your computer or an external hard drive, for instance, a cloud backup is a great idea. Just a Girl and Her Blog offers some great tips on organizing papers with Evernote. Digital storage is handy because you can use apps like Evernote on all your devices, from your smartphone to your laptop, desktop, or tablet.
Set up a homework station to organize school papers.
We love this station setup from Life's Carousel. They have four cardboard magazine files to hold all the school-related papers at their organization station. The first one labeled "paper" holds lined paper and plain paper so the kids can do their homework. The "to sign" file holds all the papers the parent or guardian needs to fill out. The "to school" file holds papers and library books that need to go back to the school. And finally, the "keep" file holds things like the school calendar, study guides, etc. It would also be a great place to keep the meal plan if your kids do hot lunches at school.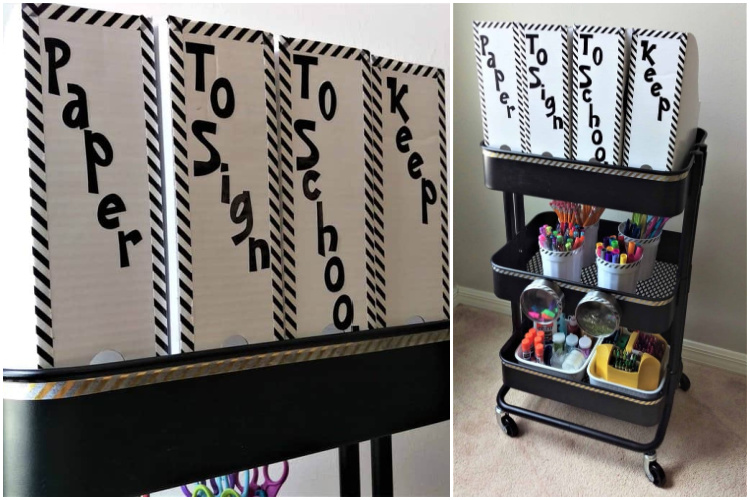 Create a changeable kids' art display.
Kids are super proud of their art, and parents love putting it on display. But if you don't want your walls and fridge absolutely covered in the stuff, follow this tutorial from Ikea Hackers for a kids art display box. Each box can hold quite a few pieces of art, and the kids can switch out the one they want displayed in front. Once the box is full, have your child go through them saving 1-3 of their favorite pieces, and scan the rest to save digitally. Put the others in the trash or pass some along to Grandma and Grandpa for safekeeping.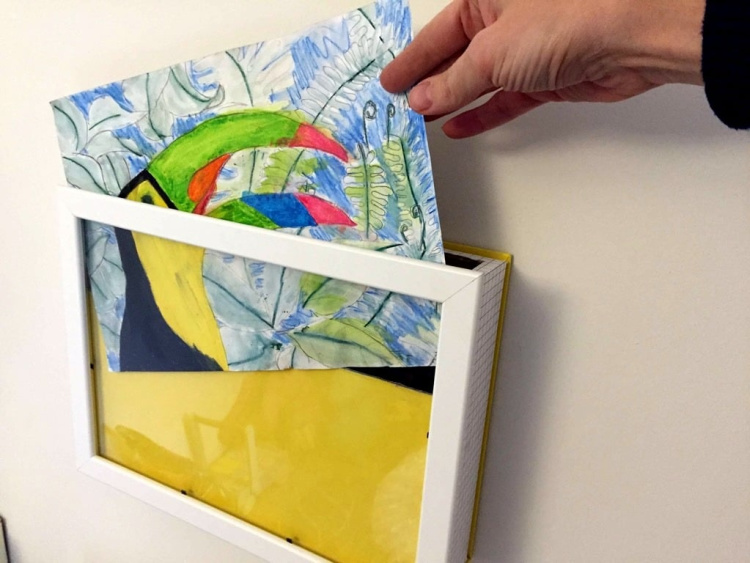 Use color coded files to organize important documents.
Color coding your files is a great idea to find what you need at a glance. Anna uses color-coded hanging files to keep a handle on her paperwork. Bills are sorted by month rather than by company. Tax documents are all kept in a certain color, as are her business-related expenses. Each member of the family also has their own color of file where important documents like birth certificates, passports, and sentimental documents are stored.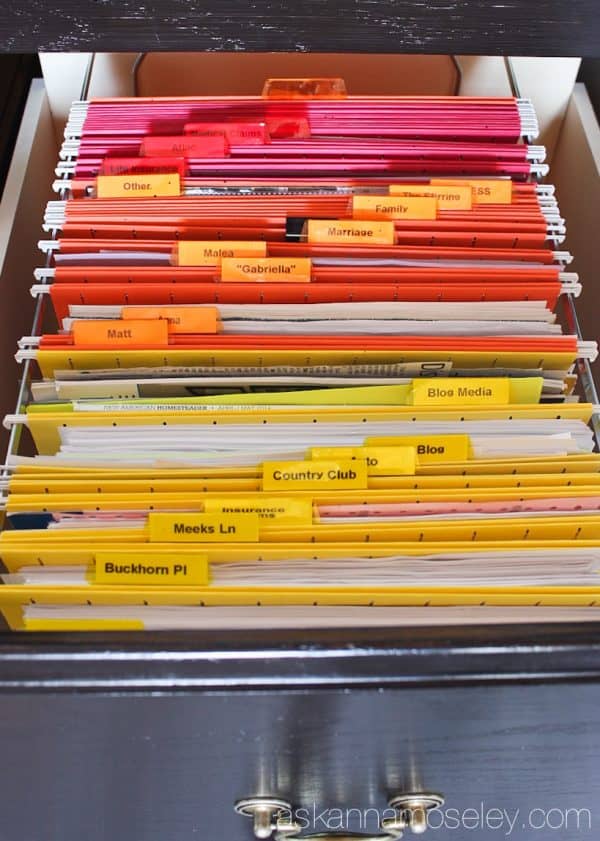 Set up a mobile command center.
If your kitchen is the central area of your home where paper clutter tends to pile up, use this genius mobile command center idea from A Bowl Full of Lemons to keep it under control. It's a quick and easy system for sorting mail and other incoming papers into actionable items like incoming and outgoing mail, things to file, bills to pay, and things to sign and return.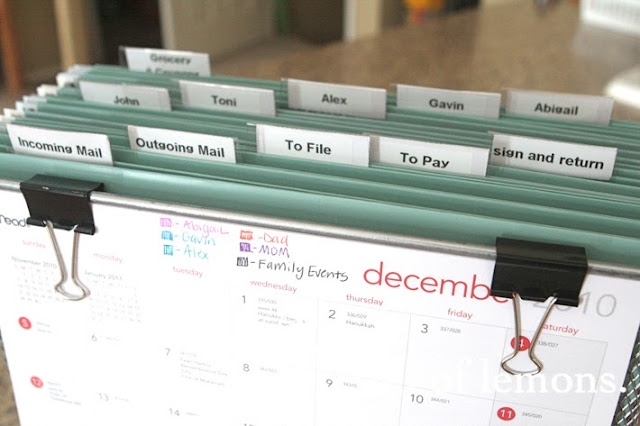 Make a receipt drop box to hold receipts until you can file them.
If you save receipts for tax purposes or have to file for reimbursements from your employer, you may find yourself looking for receipts in half a dozen places. Eliminate that problem with a super simple receipt drop box like this one from Carissa Shaw made from none other than an empty tissue box. It's so easy I'm smacking my forehead and wondering why I've never thought of this.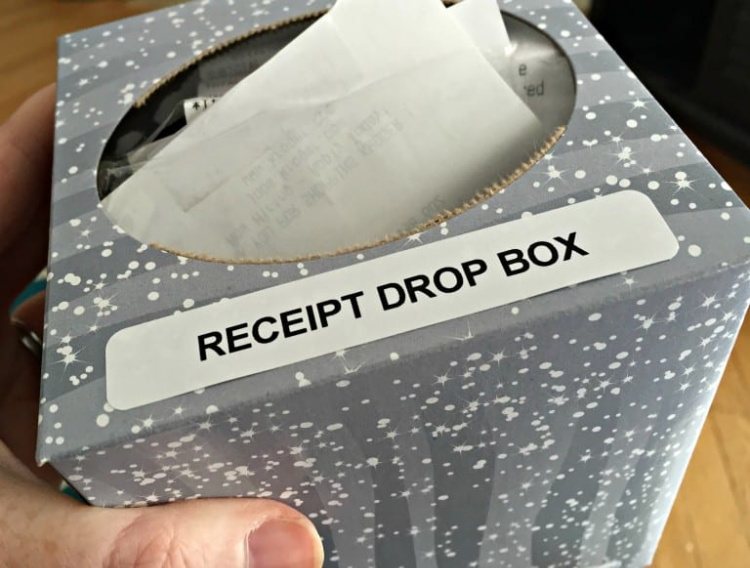 Store documents you use frequently in color coded binders.
Have a lot of documents that you refer to frequently? Store them in color-coded binders as you see here at A Bowl Full of Lemons. Each category—medical, manuals, pets, house, personal, and auto gets its own color. The only one I'd eliminate is the "manuals" binder only because most manuals for electronics and appliances can be found online these days, so there's no real reason to keep them.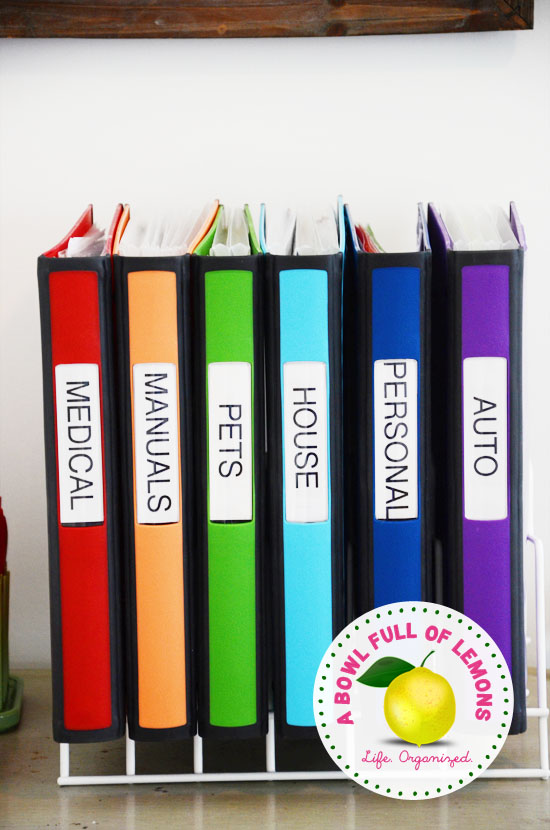 Organize incoming and outgoing mail at the door.
With such a big movement to get away from paper products, you'd think that the junk mail would have decreased by now, but it hasn't. So, if you're inundated with mail on a daily basis, set up a mail system like this one from Her Tool Belt to organize coupons, bills, incoming, and outgoing mail. Personally, I'd toss the ads right away instead of making a section for them, but if you plan to shred and use those ads for mulch, then keep that category.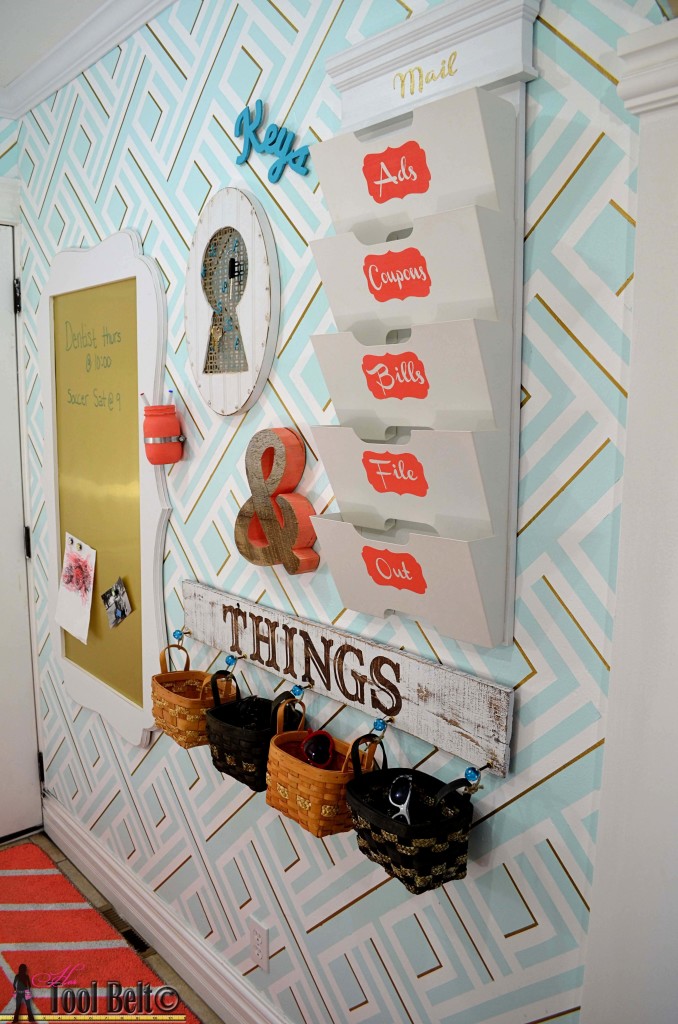 Store school papers in separate bins for each child.
Kids and parents alike can be a little sentimental when it comes to their school papers. To allow them to keep documents that are important to them without letting it get out of hand, give each child a keepsake box for their special papers. Inside each box, keep a folder labeled with each grade. Keep the reports, papers, and artwork that they're really proud of, and get rid of the rest.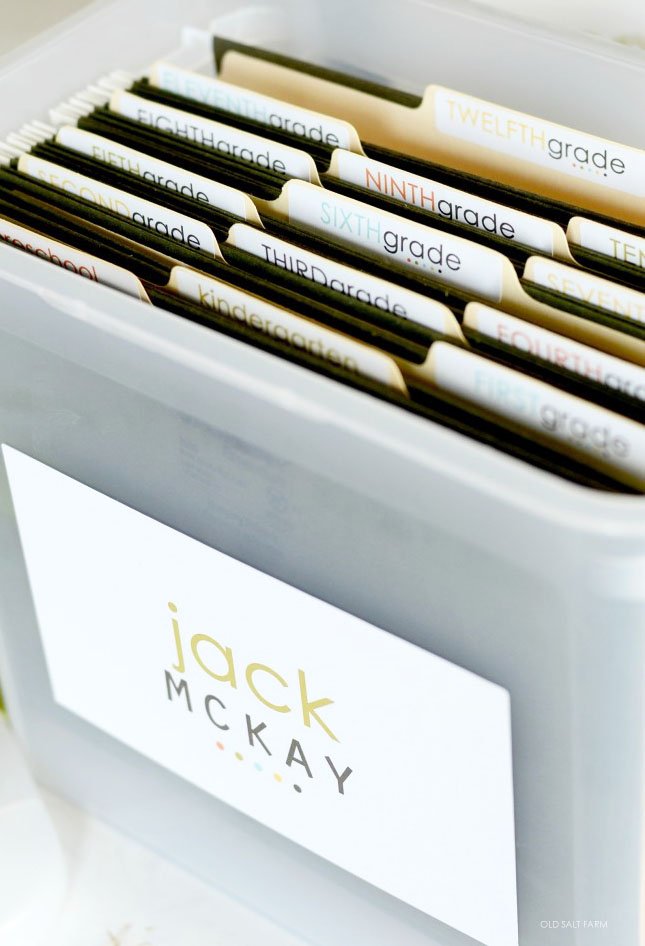 Maintain an organized desk with multiple paper systems.
Can a girl have a dream desk? If so, this is mine. Design Improvised uses several paper organization systems to manage the chaos. First up are the file folders sitting right on her desk for the most common types of papers such as bills, receipts, and coupons. Papers that she wants to flip through are kept in binders (recipes, kids' artwork, etc.). She uses boxes to store things like checkbooks, mementos, stationery, and shipping supplies. Finally, important reminders are pinned to a cork board.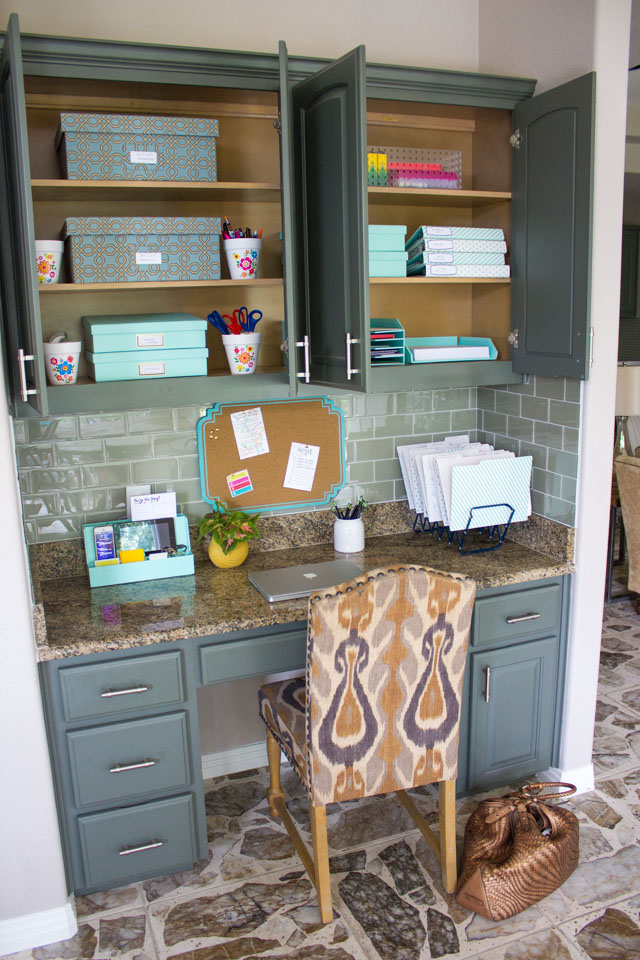 Organize receipts by month.
Keep this small monthly organizer in your car (or purse if you carry a large one) to organize your receipts right away. The DIY Playbook is organizing hers by month, but you could try by category like food, clothing, gas, etc. if that suits your needs better. Label the organizer in a way that makes sense to you! She also has tips for organizing receipts digitally.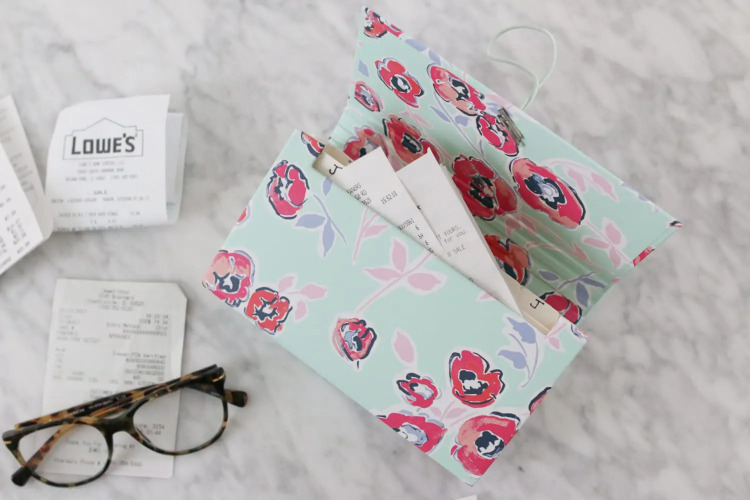 Utilize clipboards to organize papers.
Okay, so these are styled clipboards, but you can totally run with this idea for keeping up with your kids' school papers or chores. Have a clipboard for each child with their homework assignments, chore list, forms, and anything else they need. Simple, functional, and quick to grab!
Make a kitchen command center inside a cabinet.
In smaller homes where space is limited, a kitchen command center like this one from Organizing Home Life is a great idea. She utilizes both the cabinet door and inside the cabinet to maximize space. On the inside of the door, she has various pockets for receipts and bills to pay or file. You'll also find 3-ring binders and stackable bins to further keep things organized. (Psst… we have more command center ideas you should check out!)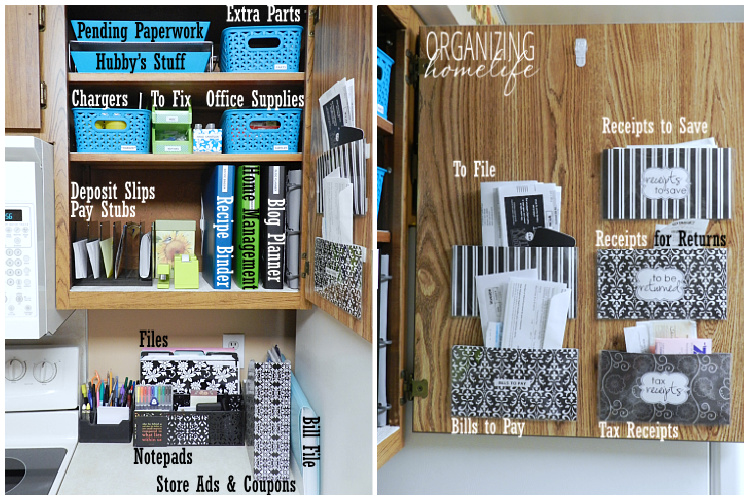 Use envelopes in a binder to store receipts.
Here's another nifty receipt storage idea, this time using envelopes inside a binder. A new envelope is created for each month with the month and year on the front. All month long, you'll slide your receipts inside. At the end of the month, put the flap down, and add a new envelope—great idea from Megan Nielsen!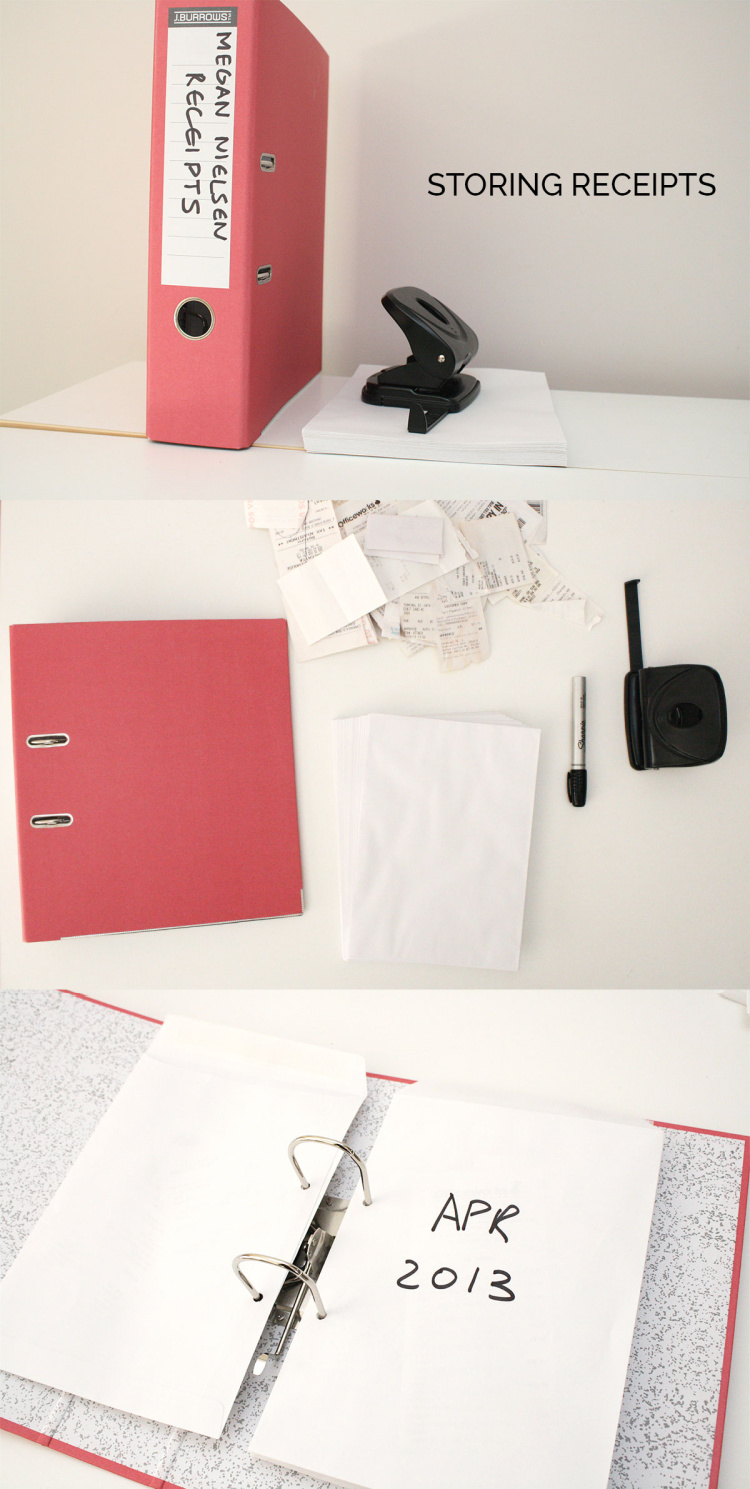 Display and store colored paper on a paper rack.
Crafty types have large stashes of colorful and patterned papers, but when it comes time to find the perfect color or design, well, that can get a little tricky. It's hard to find what you need when it's all in a pile, right? Use this wire rack storage idea from Hey Let's Make Stuff to store and see all the papers you have available in a snap. (We have more ideas for organizing your craft room, too.)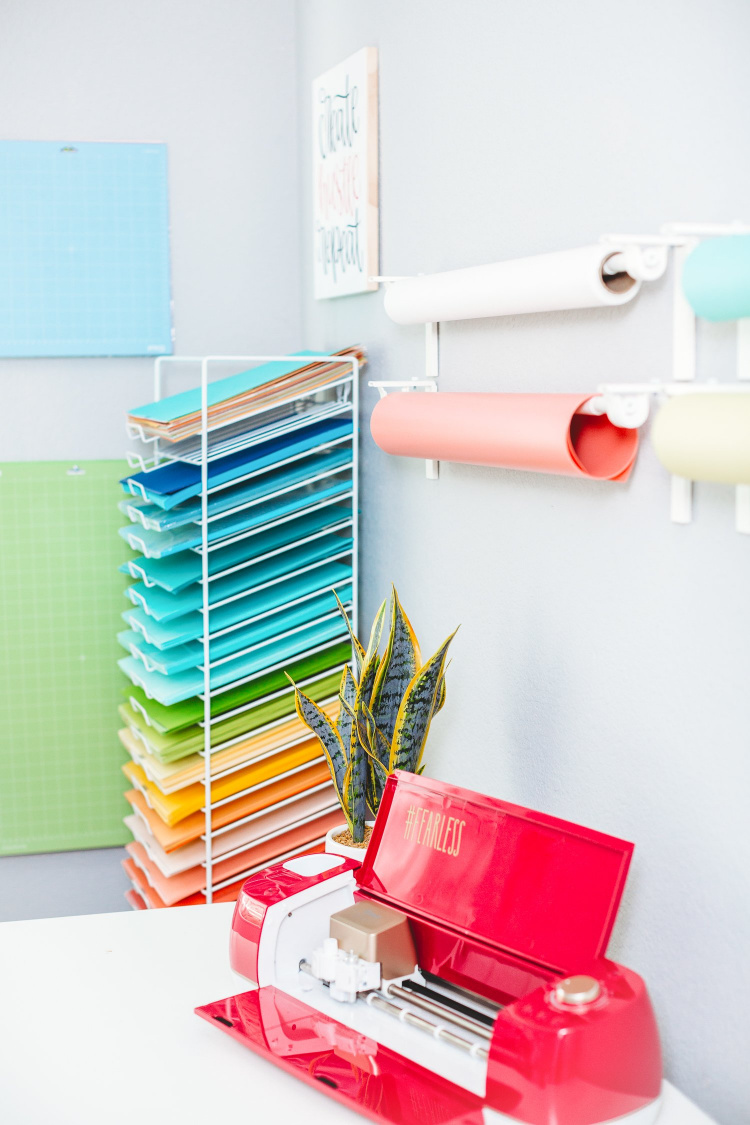 We hope you found some useful ways to store your papers here. Pin this list to come back to it later!
More Helpful Storage Ideas: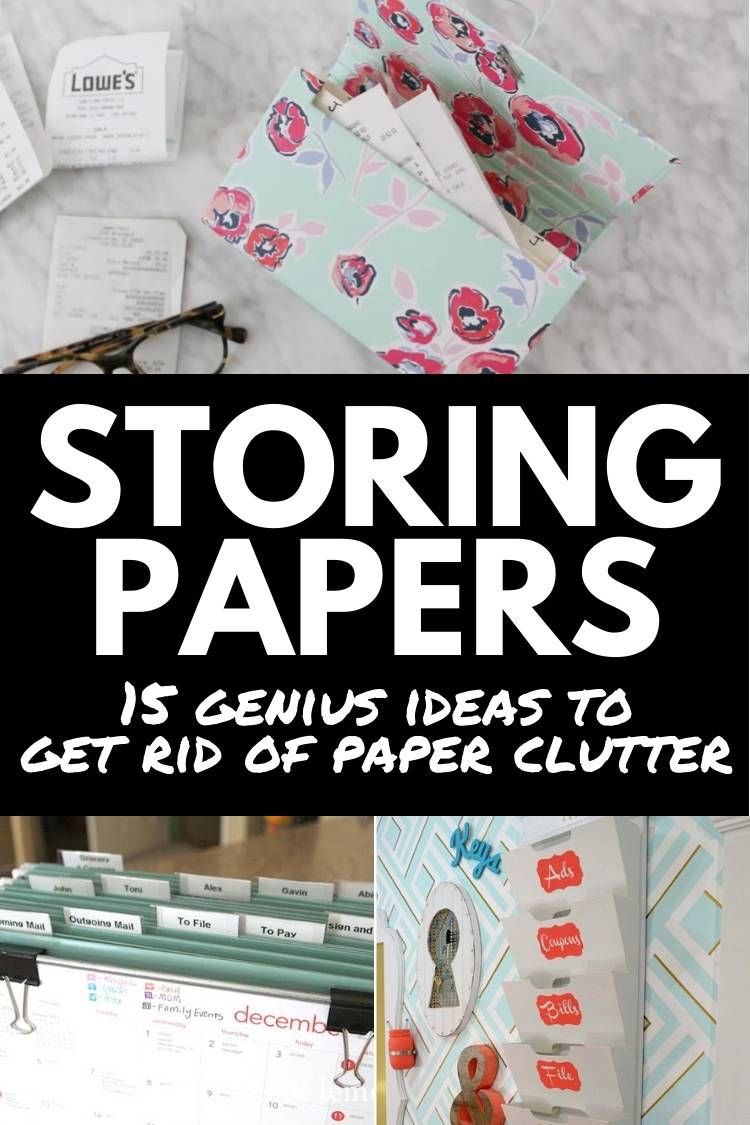 The post 15 Genius Tips for Storing Papers and Getting Organized appeared first on DIY House Hacks - One Crazy House.